Hostess Agency Cologne
Are you looking for fair hostesses? Contact us!
Hostess Agency Cologne
As a renowned agency for trade fair hostesses in Cologne and the surrounding region, we provide you with tailor-made event staff for your event.
In our diverse database you are sure to find the perfect hostesses, promoters, grid girls, presenters or even influencers for your requirements. Our charismatic hostesses represent your company extremely professionally and attract the attention of your potential customers. Because in addition to an outstanding product or a remarkable service, the presentation also plays a decisive role in attracting attention and arousing interest. With our Hostess Agency Cologne, you have the ideal partner at your side to achieve this success! Contact us today and we will put together an individual selection of trade fair hostesses for your event.
Your company is not based in Cologne? No problem! Our agency also arranges event staff for other German cities, such as Dusseldorf, Bochum and Essen.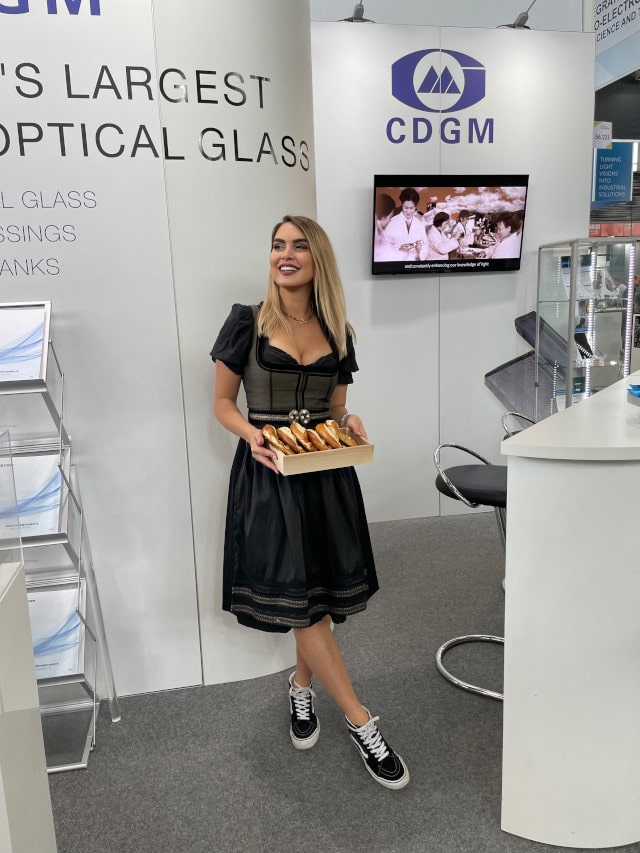 Our agency: Your first choice for trade fair hostesses Cologne
Do you want to really impress and catch everyone's eye at events like gamescom in Cologne? Then you've come to the right place with our hostess agency Cologne! We provide you with competent trade fair hostesses who have charisma and the power of persuasion to help you succeed at trade fairs and events.
To ensure that you leave a lasting impression on potential customers and business partners at these important trade fairs in Cologne, it is crucial to pay attention to more than just appearance when selecting your hosts and hostesses. In many ways, the choice of your service personnel also reflects the values of your company. That is why, as a hostess agency in Cologne, we always take into account the interplay of visual characteristics, experience and personality when placing them to ensure that our trade fair hostesses meet the demands of your company.
Our hosts and hostesses from Cologne are characterised by an attractive appearance combined with outstanding communication skills and self-confidence. In addition, our event staff are proficient in a variety of foreign languages, including English, French, Italian and more, to ensure a pleasant trade fair experience for you and your guests at events such as gamescom in Cologne.
Book with us now and benefit from our professional service as hostess agency Cologne for events such as DMEXCO and other major trade fairs in the city.
Become part of our team for Cologne – Hostess jobs made easy!
Do you dream of working as a hostess in our trade fair hostess agency in Cologne? Here you have exciting and versatile opportunities for part-time and student jobs, not only in Cologne, but also in Duisburg, Bonn and throughout Germany. We are constantly on the lookout for new talent to cover the diversity of our customers in the best possible way.
If you like working with people, appreciate teamwork and want to get started in our hostess agency in Cologne, openness, self-confidence and the ability to work in a team are definitely an advantage. Knowledge of foreign languages can be a plus point when placing jobs and, of course, enthusiasm for the work is an absolute must!
Does that sound interesting to you? Then apply now free of charge via our online form – regardless of whether you already have experience, are a student or a full-time employee! Our Hostess Agency Cologne will be happy to help you at any time if you have any questions or need further information.
Apply now